Diary of a Move
a collective diary of movements in times of restictions
credits
Concept, choreography and dance Masako Matsushita
with the collaboration of Vittoria Caneva and Ilaria Marcolin with the contribution of the diaries of 64 citizens graphics Giacomo Rastelli illustration Luca Pierini
producres
With the support of Nanou Cultural Association Operaestate Festival Veneto
the creation is part of the activities of the Dancing Museums the democracy of beings project supported by the Creative Europe program of the European Union
For the comparison and dialogue that took place during the artistic process, a special thanks goes to Ingvild Isaksen, Sivan Rubinstein, Maria Virzì, Elisabetta Consonni, Sara Lando, Alberto Avagliano and Gabriella Biancotto
**The project brings together citizens living the social isolation and post-isolation of Covid19 and invites them to keep a diary of movements between 14 up to 30 days.
It supports a process of virtual community building accompanying people of different nations, cultures and generations to archive from personal perspectives and creatively gestures and movements, to share them with others and to build together an archive of movements which will be donated to Museums and will inspire the contents of a tourable dance performance.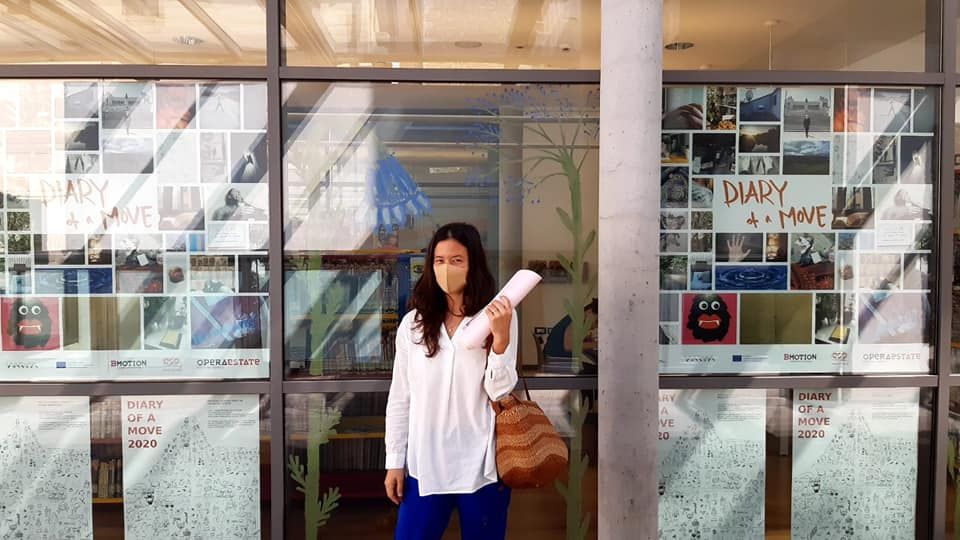 Diary of a Move takes shape from the diaries of over sixty participants invited by the choreographer to record a movement every day, during the lockdown period. The archive thus becomes the cultural heritage of the city and choreographic material to tell a collective experience in times of distancing.
"In such an extraordinary and uncertain historical moment - explains Masako Matsushita - we have to strengthen ourselves and move on thinking about when everything will be over: how we could tell our experience, how to remember so as not to forget!"
How is memory activated if the focus is on movement? How is body memory activated? How is it transmitted and transmittable? This is the center of the project conceived by Masako, a dance artist who deals with choreography and analysis of movement and who, after sharing a digital and analogical creative process with about sixty citizens, translates the diaries into a performance on the border between memories, ephemeral moments, between public space and private space. A return to the square?